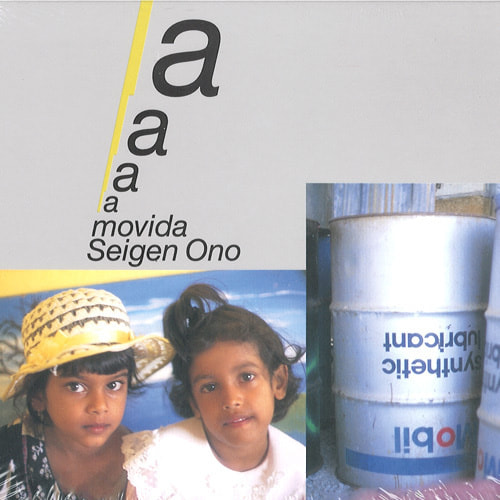 La movida
Seigen Ono
---
DISC-A:


01. White Tango




02. Escalier De Mer




03. King's Funeral




04. White Coral




05. Oui, C'est Si Bon




06. Trapeze




07. Under The Sea




08. Peacock Jump




09. Time Passed




10. Affliction




11. Old Woman's Garden




12. Tarantella




13. White Coral




14. Pessoa Quase Certa




15. South Pacific




16. I Need 10



DISC-B:


01. La Movida




02. Monica Tornera Dominica Sera




03. South Pacific




04. Enishie




05. Malu




06. Covenant Of The Rainbow




07. The Green Chinese Table




08. Bar Del Mattatoio




09. I Do Love You A Little




10. Nick & Kiriko




11. Fernando De Noronha




12. Kodai Tenmondai



DISC-C:


01. You Are Here




02. Experiences And Memories




03.

You Are Here, What Is Happening With Us?


04. Heat Island Tokyo




05. Cheap Kiss You Can Buy




06. Angel's Ladder




07.

Heat Island Tokyo, But I Felt Fear So Much Of That Time


08.

You Are Here Existing For Me In A Very Big Way


09.

Experiences And Memories That I Will Cherish


10. Heat Island Tokyo, And Guilt




11.

You Are Here, Nothing But Sadness And Pain


12. Aqua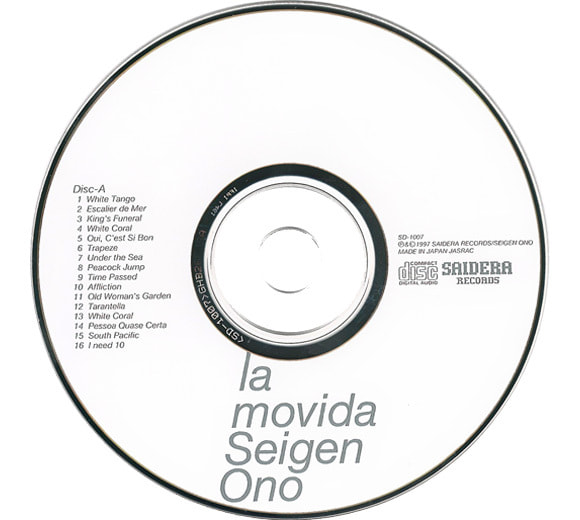 MUSICIAN:
Seigen Ono: Charango on A-3, 14, 16, B-1, 2 / Guitar on A-4, 15, B-3, 5, 12 / Electric Guitar and Sampler on C-12
Joao Parahyba: Percussion on B-2~11
Toninho Ferragutti: Accordion on B-2~11
Mane Silveira: Alto Sax on B-2~11
Marco Mancini: Tenor Sax on B-12
Gozo Yoshimasu: Poetry Reading on B-12
Issei Igarashi: Trumpet on A-15, B-4, C-2, 3, 5, 7, 9, 10 / Electric Trumpet on C- 12
Nao Takeuchi: Bass Clarinet on C-3~5, 11
Keiichiro Shibuya: Prepared Piano on C-1, 2, 6~8, 10
Marco Bosco: Percussion on A-15, C-1~5, 7~11
Masashi Togame: Clarinet on A-1, 2, 5~8, 10~12 / Bass Clarinet on C-1, 3, 5, 7~10
Masataka Matsumoto: Tuba on A-1, 5~12, C-3~ 6, 9, 11/ Euphonium on A-2
Hideaki Yamaoka: Accordion on A-1, 2, 5~12
Motoyoshi Furuya: Trumpet on A-1, 2, 5~12
Mariko Okamoto: Piano on A-2, 7, 12 / Percussion on A-1, 5, 6, 8
Eugenio Dale: Vocal and Guitar on A-14
Chikara Tsuzuki: Harmonica on A-14
Nahame Menesello Casseb: Drums on A-15
Febian Reza Pane: Piano on A-15
Shinichi Sato: Electric Bass on A-15
Yoshiko Kaneko: Violin on A-3, 4, 13
Yuka Matsunuma: Viola on A-1, 3, 4, 13
Den: Cavaquinho on A-16
Koji Abe: Guitar on A-16
Kyoko Katsunuma: Vocal on A-16
Estelle Bauer: Voice on A-16
Time Zones Ensemble on B-4, 6~11
Violin: Flavio Naddonni, Tommaso Lagattolla, Giuseppe de Crescenzo, Domeno Strada,
Viola: Francesco Capuano, Stefania Stassi, Contra Bass: Francesco Barile,
Cello: Maria Teresa Bari, Mauro Gentile, Mario Petrosillo, Elia Ranieri,
Piano: Fiorella Sassanelli, Harp: Zaira Antonacci, Director: Bepi Speranza
Composed and produced by Seigen Ono
Recorded and mixed by Akira Fukuda
All compositions written, arranged and produced by Seigen Ono, except lyrics
for "Pessoa Quase Certa" by Arto Lindsay and lyrics for "Kodai Tenmondai"
by Gozo Yoshimasu. This album is dedicated to Keiko Courdy.
Art direction, design and album title by Tsuguya Inoue for Beans.
Photography by Seigen Ono except portrait by Juan Esteves.
Mixed and mastered by Seigen Ono at Saidera Mastering, Tokyo, July to October 1997.
Entire album mixed and mastered in 24-bit process with YAMAHA O2R V.2
A-1, 3, 4, 13, 16 recorded at Saidera Aoyama Studio, October 1996, Tokyo
A-2, 5~12 recorded at Hitokuchizaka Studios, October 1996, Tokyo by Yasuo Morimoto
A-14 recorded at Hitokuchizaka Studios, February 1995, Tokyo for International Musicians' Fund for the Great Hanshin Earthquake M7.205:46 January 17, 1995
A-15 recorded at Toshiba Studio, May 1995, Tokyo by Yasuo Morimoto
B-1~4, 6~11 recorded at "Time Zones "95, Sulla via delle musiche possibili", October 1995, Bari, Italy
B-5 recorded direct to DAT at "30th Pori Jazz Festival" July 1995, Finland by Gary F. Baldassari
B-12 recorded direct to DAT at MIS, November 1992, Sao Paulo, Brazil
C-1~11 recorded at NHK 506 studio, July 1997, Tokyo
C-12 recorded at "Klanglandschaften, Festival fuer Improvisation und Experimentelle Musik Leipzig", November 1996, Germany
"LA MOVIDA" とはスペイン語で、「moving」「movement」。サーカスからアンビエントまで。
A-1; 1997年秋冬のコム デ ギャルソンのプレゼンテーションでのフィナーレ曲、モナコ王立モンテカルロ・バレエ団も使用。
A-2~13; フィリップ・デュクフレ(フランスの演出家・振付家、冬のアルベール・オリンピックのファンタジーな演出で世界に名をしられた)とのミュージカル「DORA」のCD化。
B-1~11; イタリア南部の町、バリにおけるタイム・ゾーンズ・フェスティバルでのウィズ・ストリングスでのコンサート。同フェスでは、デヴィッド・シルビアン、マイケル・ノイマン、ノスラット・ファティ・アリハン、カエタノ・ヴェローゾらが出演。エスニック、エクスペリメンタル、現代音楽のフェスティバルとして要注目、エンリオ・モリコーネ主催。バリはニーノ・ロータが音楽学校で教えていた町として有名。LIVE recorded at "Time Zones "95, Sulla via delle musiche possibili", October 1995, Bari, Italy
B-5; フィンランドのポリ・ジャズ・フェスティバルでのセイゲン・オノ・カルテット。LIVE recorded direct to DAT at "30th Pori Jazz Festival" July 1995, Finland
B-12; サンパウロでの吉増剛造氏のポエトリーリーディング at MIS, November 1992, Sao Paulo, Brazil
C-1~11; NHKドラマ「熱の島で」(芸術祭参加作品)。
C-12; ドイツ・ライプチヒでのライヴ。五十嵐一生とのデュオ。
| | | | | | |
| --- | --- | --- | --- | --- | --- |
| NO. | | Title | Artist | Arthor 作詞/作曲 | 作品コード |
| | | Disc A | | | |
| 1 | | White Tango | Seigen Ono | Seigen Ono | 058-7123-9 |
| 2 | | Escalier De Mer | Seigen Ono | Seigen Ono | 058-7854-3 |
| 3 | | King's Funeral | Seigen Ono | Seigen Ono | 058-7855-1 |
| 4 | | White Coral | Seigen Ono | Seigen Ono | 058-7856-0 |
| 5 | | Oui, C'est Si Bon | Seigen Ono | Seigen Ono | 042-7255-2 |
| 6 | | Trapeze | Seigen Ono | Seigen Ono | 058-7857-8 |
| 7 | | Under The Sea | Seigen Ono | Seigen Ono | 058-8157-9 |
| 8 | | Peacock Jump | Seigen Ono | Seigen Ono | 058-8158-7 |
| 9 | | Time Passed | Seigen Ono | Seigen Ono | 058-8159-5 |
| 10 | | Affliction | Seigen Ono | Seigen Ono | 058-8160-9 |
| 11 | | Old Woman's Garden | Seigen Ono | Seigen Ono | 058-8161-7 |
| 12 | | Tarantella | Seigen Ono | Seigen Ono | 058-8163-3 |
| 13 | | White Coral | Seigen Ono | Seigen Ono | 058-7856-0 |
| 14 | | Pessoa Quase Certa | Seigen Ono | Seigen Ono | OP2-5260-9 |
| 15 | | South Pacific | Seigen Ono | Seigen Ono | 038-7193-2 |
| 16 | | I Need 10 | Seigen Ono | Seigen Ono | 058-8164-1 |
| | | | | | |
| | | Disc B | | | |
| 1 | | La Movida | Seigen Ono | Seigen Ono | 058-8165-0 |
| 2 | | Monica Tornera Dominica Sera | Seigen Ono | Seigen Ono | 0M3-7035-0 |
| 3 | | South Pacific | Seigen Ono | Seigen Ono | 038-7193-2 |
| 4 | | Enishie | Seigen Ono | Seigen Ono | 082-4540-1 |
| 5 | | Malu | Seigen Ono | Seigen Ono | 029-0902-2 |
| 6 | | Covenant Of The Rainbow | Seigen Ono | Seigen Ono | 005-4589-9 |
| 7 | | The Green Chinese Table | Seigen Ono | Seigen Ono | 0G1-8079-9 |
| 8 | | Bar Del Mattatoio | Seigen Ono | Seigen Ono | 0J2-5837-1 |
| 9 | | I Do Love You A Little | Seigen Ono | Seigen Ono | 0I3-3023-2 |
| 10 | | Nick & Kiriko | Seigen Ono | Seigen Ono | 029-0905-7 |
| 11 | | Fernando De Noronha | Seigen Ono | Seigen Ono | 029-0913-8 |
| 12 | | Kodai Tenmondai | Seigen Ono | Seigen Ono | 058-8166-8 |
| | | | | | |
| | | Disc C | | | |
| 1 | | You Are Here | Seigen Ono | Seigen Ono | 058-8168-4 |
| 2 | | Experiences And Memories | Seigen Ono | Seigen Ono | 058-8169-2 |
| 3 | | You Are Here, What Is Happening With Us? | Seigen Ono | Seigen Ono | 058-8529-9 |
| 4 | | Heat Island Tokyo | Seigen Ono | Seigen Ono | 058-8170-6 |
| 5 | | Cheap Kiss You Can Buy | Seigen Ono | Seigen Ono | 058-8171-4 |
| 6 | | Angel's Ladder | Seigen Ono | Seigen Ono | 058-8172-2 |
| 7 | | Heat Island Tokyo, But I Felt Fear So Much Of That Time | Seigen Ono | Seigen Ono | 058-8530-2 |
| 8 | | You Are Here Existing For Me In A Very Big Way | Seigen Ono | Seigen Ono | 058-8531-1 |
| 9 | | Experiences And Memories That I Will Cherish | Seigen Ono | Seigen Ono | 058-8532-9 |
| 10 | | Heat Island Tokyo, And Guilt | Seigen Ono | Seigen Ono | 058-8533-7 |
| 11 | | You Are Here, Nothing But Sadness And Pain | Seigen Ono | Seigen Ono | 058-8535-3 |
| 12 | | Aqua | Seigen Ono | Seigen Ono | 047-5313-5 |